August 3, 2018
 Allan Mann, creator of the 1969-72 New Age stage revue company Earthlight, the one that saved the Woodstock Festival (Earthlight.show), has decided to do an Earthlight stage revival, video recording, Quick Bits for the internet, book, documentary film and possible feature film … "The Earthlight Plan."  The book would be released prior to the stage opening and the documentary film would be released the day after the opening so that it could be used as the end of the film.  All three would cross promote each other.
With the 50th Anniversary of the Woodstock Festival approaching on Aug. 15, 2019 this could be a very profitable venture (see attached "Revenue Projections").  Earthlight is seeking working &/or investing partners.  These do not  have to be parties familiar with the entertainment business.   This is an excellent opportunity for people in other lines of work or just out of school to get started in the entertainment business or for companies seeking to diversify.  Since Allan has worked in various production capacities in the entertainment industry (bio attached), most notably as Vice President-in-Charge-of-Production for Trans World Entertainment (TWE), he would accept fiduciary responsibility as Executive Producer until an appropriate Producer  can be secured.  Since the world economy needs to be based less on material production, which is limited, and more on creative production, which is unlimited, The Earthlight Plan is an excellent opportunity to move human and capital resources in that direction.
There are 2 ways to approach this:
Fund the Development Budget to hire staff & facilities to begin work on all aspects of the Plan with options to fund various costs by a certain date.
Just fund a stage revival in a 1st Class Theater (def3ined by the Dramatists Guild) and a video recording then decide to proceed with the book, documentary and feature … or not.
Excerpts from reviews of Earthlight shows:
"… nothing less than pure, essential theater "
- L.A. Times, Frederic Milstein
"… the kind of experience that is rare in any theater… It is the style of each individual piece that really makes the show.  Some have a verbal brilliance that suggest what Pinter or Joyce might have done if they had been born in this country."
- Harvard Crimson, George Sim Johnston
"… a near-perfect balance of theatrical tightness and free-form expression … the audience … comes as close to enjoying a total theatrical experience as it is ever likely to get."
- Queens College Phoenix, Pat Henry
"… excellent modern theater entertainment … Earthlight is a play of life … Its effect is strong and leaves one feeling…HOPEFUL. It's something everyone should see."
-The Stute (Stevens Inst. Of Technology), Bernard A. Mallon
"This is a superb musical legit offering which is honest, simple and moving ... It is excellent entertainment."
- Variety, Sege.
"…pure contemporary adrenaline…witty, deeply satirical, …a captivating piece with a lot for the mind in it."
- Red Deer Advocate (Alberta, Canada), Don Towers
"… this troupe … might well take the rock opera out of its rigid all-musical stages and add the dramatic element that is now lacking in the form. 'Tommy' and 'Jesus Christ Superstar' were fine starting points in the dark. Now let's shed a little Earthlight on the matter."
- Cash Box, T. B.
"… 'Earthlight'… is strictly on the beam …a corking good time … thoroughly enjoya­ble … musical sunburst and elastic warmth…"
- NY Times,  Howard Thompson
"After seeing their show several times now, I'm left with the same desire I felt after the first show – wanting each and every individual I know to see them.  Their show is at once funny, serious, revealing and an artistic whole, and leaves me with a real, positive sense of human potential … their short pieces betray an inventiveness in sounds and movements I've rarely, if ever, seen."
- Kathy Patterson, Northwestern U. Symposium Speakers' Committee
"... someone will eventually realize just how brilliant they are … the members of the company have relied on magnificent simplicity to get their message across.
- The Hollywood Reporter, Tony Lawrence
WHERE EARTHLIGHT PERFORMED
The company was formed in February, 1969 at Treehouse II, N.Y.C.
April-Aug., 1969 – Earthlight Theater (5 performances/wk), White Lake, N.Y.
July, 1969 – Grossinger's Hotel
Aug., 1969 (3 days) - Woodstock Festival, White Lake, NY
Sept., 1969 - Open Theatre, NYC.
Oct.-Nov., 1969 -
Radio City Music Hall West (Fri. & Sat. nights), Hollywood; Climax Discotheque (Thurs. nights), Hollywood; Meredith Experimental Theatre, Hollywood; Bullock's Christmas Party, L.A.
Dec., 1969-Dec., 1970:
Earthlight Theater, Venice, CA -  (6 performances/wk)
Clubs:  The Fig, The Brass Ring, The Ash Grove, The Beach House, etc.
Events:  Earthmother's Wedding; L. A. County Youth Day; Renaissance Pleasure Faire,
various charitable events, etc.
Jan., 1970: - Northwestern University, Evanston, IL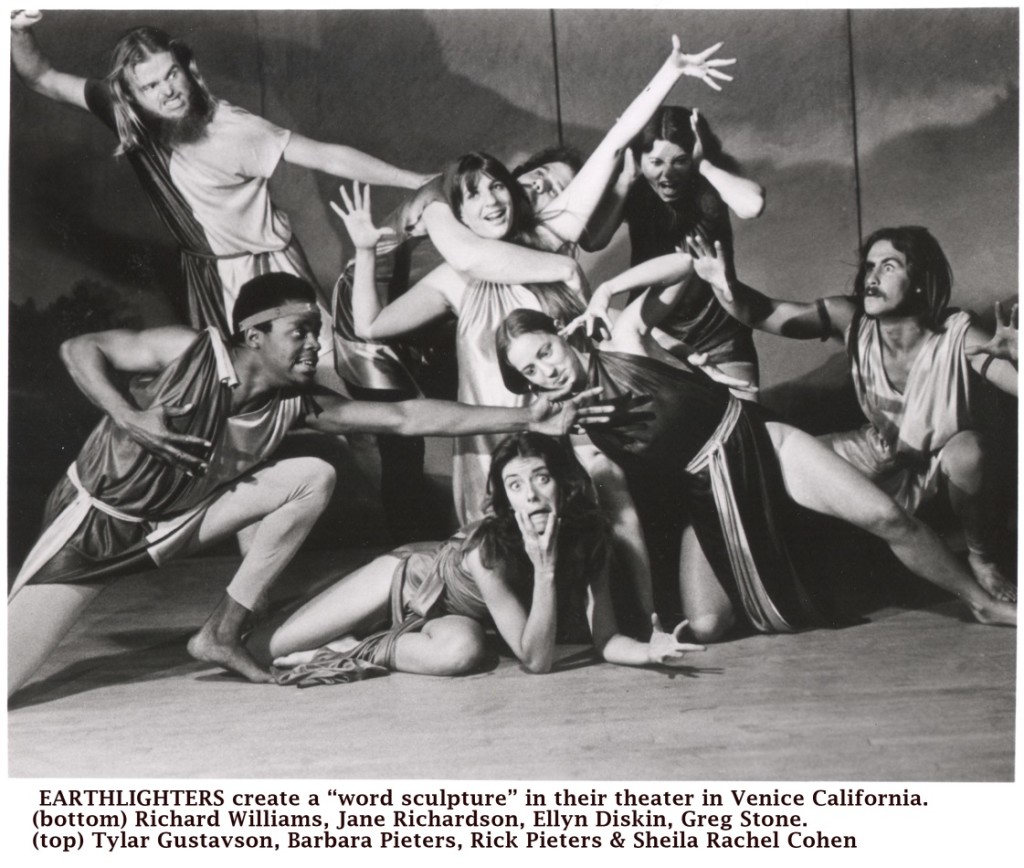 April, 1970:
Earth Day, Union Sq., NYC;  Fairleigh Dickinson U., NJ;  Northwestern Univ.,
Evanston, IL;
Rutgers Univ., NJ
Oct., 1970: Gracie Sq. Theatre NYC (10 performances)
Oct-Nov., 1970:
Augustana College,
Rock Island, IL;
Notre Dame, IN;
Univ. of Missouri,
Columbia, MO;
Wabash College.,
Crawfordsville, IN
Dec., 1970:
Queens College, NYC
Dec., 25, 1970-March 21,1971:  The Garrick Theatre, NYC (7 performances/wk)
April-June, 1971:
Chaffey College,Alta Loma, CA;
Fitchburg College, MA;
Portland State, OR;
Project Artaud, San Francisco
(6 performances);
San Jose State;
UCLA;
UC Berkeley;
Washington St. Univ.;
Western Washington Reserve
Sept., 1971:
Red Deer College, Alberta,
Canada
Oct.-Nov., 1971:
Charles Playhouse, Boston
(7 performances/wk)
Nov.,1971:
Queens College, NYC
Feb., 1972:
The Unity Center Theater, NYC
(7 performances)
March, 1972:
Colorado St. Univ.:
Univ. of Arizona
Development Budget for the "EARTHLIGHT  PLAN"
| | | | | |
| --- | --- | --- | --- | --- |
| RESEARCHERS | 2 | $900/wk | 6 wks | $10,800 |
| AUDIO EDITOR` | | 2,000/wk | 3 wks | 4,000 |
| VIDEO EDITOR | | 2,000/wk | 4 wks |     8,000 |
| ATTORNEY | | 400/hr | 50 | 20,000 |
| PRODUCTION MGR. | | 2,000/wk | 14 wks | 28,000 |
| ACCOUNTANT | | 250/hr | 30 | 7,500 |
| TECHNICAL COSTS | | | | 25,000 |
| OFFICE/REHEARSAL SPACE | | 4,000/mo | 4 mos | 20,000 |
| OFFICE EQUIPMENT, SUPPLIES & UTILITIES | | 1,000/mo | 4 mos | 4,000 |
| PRODUCER | | 2,500/wk | 18 wks | 45,000 |
| PRODUCER'S ASSISTANT | | 900/wk | 20 wks | 18,000 |
| EXECUTIVE PRODUCER | | | | 10,000 |
| CASTING DIRECTOR | | | | 7,500 |
| MUSIC DIRECTOR | | | | 10,000 |
| PERFORMERS | 12 | 900/wk | 1 | 10,800 |
| PERFORMERS | 8 | 900/wk | 3 wks | 21,600 |
| MUSICIANS | 3 | 900/wk | 2 wks | 5,400 |
| ALLAN MANN | | | | 25,000 |
| PR FIRM | | | | 10,000 |
| BOOK WRITER | | | | 7,500 |
| SCREEN WRITER | | | | 7,500 |
| TAXES/BENEFITS/INSURANCE/ETC. | | | | 15,000 |
| FINANCING COSTS | | | | 20,000 |
| SUBTOTAL: | | | | 340,600 |
| CONTINGENCY | | 10% | | 34,600 |
| SALES COMMISSION | | 8% | | 27,200 |
| TOTAL: | | | | $402,400 |
(see "job descriptions" on pp 7&8)
 "Earthlight Plan" Total Funding Needs
| | | |
| --- | --- | --- |
| PRODUCT | HIGH | LOW |
| Development |    $402,400 | 402,400 |
| 1st Class* Stage Production |  2,000,000 |   700,000 |
| Video Recording & "Quick Bits" for the internet |    900,000 |   250,000 |
| Documentary |  1,500,000 |   400,000 |
| Book |    300,000 | 150,000 |
| Feature | 30,000,000 | 8,000,000 |
|                     TOTALS | $35,102,400 | 9,902,400 |
"Earthlight Plan" Worldwide Gross* Revenue Projections
(The following Revenue Projections are based on: "Tommy" and "Jesus Christ Superstar" were fine starting points in the dark.  Now let's shed a little Earthlight on the matter."   - CashBox  (trade magazine) and other favorable comparisons to these shows and "Hair.")
3 yrs                                                     10 yrs
| | | | | |
| --- | --- | --- | --- | --- |
| PRODUCT | HIGH | LOW | HIGH | LOW |
| Stage Productions | $ 40,000,000 | 2,000,000 | 200,000,000 | 3,000,000 |
| Video Recording & "Quick Bits" for the internet | 18,000,000 | 1,100,000 | 25,000,000 | 1,300,000 |
| Book | 20,000,000 | 900,000 | 30,000,000 | 1,200,000 |
| Documentary | 30,000,000 | 2,000,000 | 45,000,000 | 2,800,000 |
| Feature | 120,000,000 | 16,000,000 | 150,000,000 | 18,000,000 |
| Music Recordings | 35,000,000 | 1,100,000 | 40,000,000 | 1,200,000 |
| Ancillary Rights ** | 40,000,000 | 1,600,000 | 50,000,000 | 2,000,000 |
|        TOTALS | $303,000,000 | 24,700,000 | 540,000,000 | 29,500,000 |
*    net revenues would probably be about 70% of "Gross" estimates, after costs & fees to distributors, theaters, talent, agents, etc.
**  Ancillary Rights: merchandising, use of music in commercials, publication of the script, etc.
  Allan Mann
Allan began writing in 1951 at the age of 8 with "Spot the Fire Dog" which his teacher thought he had plagiarized and his mother had to come to school to testify she had seen him write it.  His interest in theater started in high school, Columbia Grammar & Prep. School in NYC, where he played the leads in "The Skin of Our Teeth" & and "The Male Animal."  He was given the Alden Award for best extracurricular activity for a chap book of poetry.  Allan attended Columbia College where he acted with The Columbia Players, playing "Bamboola" in Isaiah Sheffer's World Premiere of "Pantegleize."  He started writing a play and was given a playwriting tutorial by Prof. Andrew Chiappe which led to a Universal Fellowship for Dramatic Writing to attend graduate school in theater at Sarah Lawrence.
At Sarah Lawrence Allan studied improvisation with Viola Spolin and became fascinated with actor-created theater.  Upon completion of his course work in June, 1966, he was hired by Motown Record Co. to start a theatrical division, which brought him to L.A.  When his boss left to join CBS & Allan was out of a job he started The Realization Theater where he directed Albee's "The American Dream" and acted in his play "In This Place."  Allan auditioned for and was selected to join the Workshop of the Committee, a successful SF improv comedy group opened in LA, and performed with them on Monday nights.  Allan became enthralled by the theatrical magic created by collaboration between the actors and writer/ director and began seeing that as the basis for more than just comedy.
In the fall of 1968 Allan turned down a full scholarship to UCLA Film School to return to NY to start a new type of theater
company performing short pieces of various sorts, created by him and the actors, taking the theater back to its roots as a religi-ous celebration.  In April, 1969 he brought    the company, now  "Earthlight," up to White Lake, NY to build a theater in a barn and perform      a traditional summer stock season while continuing to work on original material.  When  the Woodstock Festival lost its venue, Allan arranged for them to come  to White Lake and Earthlight was hired to create and perform theater pieces at the   Festival.  They then moved to L.A., establishing a successful theater in Venice and going on college tours.  Earthlight incorporated the band Pure Love    'n Pleasure in the summer  of 1970,  went on tour, opened off-Broadway at the Garrick Theater in December and ran for 5 months.  The company moved to Berkeley, CA, allied themselves with composer David B. Cohen & created a new show to go on tour.  While they were on tour, Allan returned  to NY to cast another company which opened at The Charles Playhouse in Boston in October, 1971.  In the spring of 1972, Allan wrote a new show & new songs with composer Joel Mofsenson & went  out on one last tour.
Feeling the need to expand his horizons, Allan went back to L.A. to learn to be a producer.  Starting as a property master, he worked his way up to Production Mgr & Line Producer on low-budget films & TV shows becoming VP-In-Charge-of-Production for Trans World Entertainment.  He was a member of the DGA 1984 Negotiating Committee, produced the film "Round Numbers" & successfully lobbied the U.S. Export Import Bank, on behalf of The American Film Market and Independent Feature Project, to insure payment on foreign sales contracts.  Allan always intended to revive Earthlight some day and with the Woodstock 50th approaching has decided that that day has come.
JOB DESCRIPTIONS
RESEARCHERS:
There's a lot of material on Earthlight in various place in the US & Canada: photos, 8 & 16 mm film, B&W video of performances in theaters & parks; reviews, articles and people's remem­brances of what they saw & felt. One audient said when she first saw Earthlight her "jaw dropped." She had never seen anything like it - and neither had anyone else.  Time for people to see it again.
Worldwide revenues of comparable products from TV, DVD, internet, stage performances, movie theaters, recordings, etc.
Costs for theaters in Southern California and/or NY.
Contact former Earthlighters to get their stories, memorabilia, etc. for use in the book and documentary & see if they would like to become involved in some manner.
Gather information on prospective producers, agents, etc.
Contact the people who wrote those glowing reviews, letters and articles about Earthlight to see if they would like to help this Plan in some way.
Contact all the places Earthlight played to gather materials we do not currently have & explore interest in booking new performances of Earthlight.
Assist the Producer in finding a writers for the book & screenplay
SOUND EDITOR/MIXER:
"Sweeten" and edit the various audio and audio and video recordings of Earthlight shows to use for promotional purposes, the documentary and presentations to music companies.
Record & sweeten sound for new video recording.
VIDEO EDITOR:
Edit the existing B&W Earthlight recordings for promotional purposes and the documentary.
Edit new video recording into a show that can be licensed to TV/Internet & sold directly.
"Quick Bits:" edit individual pieces to license to purveyors of short entertainment pieces on the internet & as promotion for the various long form products.
ATTORNEY:
Draw up agreements between Earthlight and prospective partners and/or investors.
Negotiate with Warner Bros. for use of the 1000's of feet of film on Earthlight creating, rehearsing & performing at the Woodstock Festival. As Stan Goldstein, Chief of Staff for Woodstock Ventures, said in his letter (on website):
"It is unfortunate that so little of your performances were included in Warner Brothers' Woodstock film. I know Michael Margetz and Malcolm Hart filmed Earthlight exten­sively at rehearsals on-site and in performance during the festival."
which could lead to WB becoming a partner in the entire Earthlight Plan.
Check status of rights for all the various songs and augment when necessary
Incorporate Earthlight
Determine proper action in relation to false information on the internet & in the movie "Taking Woodstock."
Determine the appropriate agreements for crowdfunding
Review appropriate contracts with the Dramatists Guild, Actors Equity, the American Federa­tion of Musicians & the International Alliance of Theatrical Stage Employees.
PRODUCTION MANAGER:
Research theaters and prepare budgets for possible stage openings in Southern California., NY and other venues
Prepare budgets for book, documentary film & possibly feature film.
Rent suitable space for Earthlight office and rehearsals.
Research and interview the various craft people for stage and film production.
Supervise casting
ACCOUNTANT:
Review all prospective budgets
Set up accounting procedures
Open appropriate bank accounts
Communicate with investors in regard to all expenditures & revenues. Issue all checks.
File appropriate papers with the DG, AE, AFM & IATSE
TECHNICAL COSTS:
Transfer analog video, film & audio tape to Digital Video and transfer all digital video to Digital Videotape (DV) or Linear Tape-Option (LTO.
Purchase computer hardware & software for budgeting, scheduling, writing, editing, etc
Rent and/or purchase of audio and video hardware and software, lighting equipment, etc. so that a marketable video recording can be made whether or not funding for a theatrical opening, book or documentary film is secured.
OFFICE & REHEARSAL SPACE:
Once Development funding is in place we will begin casting at our office/rehearsal space. It will take a few weeks to select 8 performers and begin creating a unique ensemble.  If further financing for a 1st class production does not become available, a few performances will be put on wherever possible and recorded.
PRODUCER, hired or partnered to oversee all aspects of the Plan including:
Hiring and supervising all personnel,
Negotiating deals with agents,
Prepare list of possible venues for the revival opening & related costs.
Explore coproduction and distribution possibilities, including music companies.
Work with attorney & agent on possible deal with WB.
Participate in casting with Director & Casting Director.
Work with PR firm.
Supervise preparation of detailed budgets for stage revival, tour, book & documentary film.
EXECUTIVE  PRODUCER:  Liaison between financing & producing parties.  Can be business person interested in learning the entertainment business.  Referee, if necessary, between pro­ducer & director or other staff.
CASTING DIRECTOR:  Place casting notices, organize & supervise the casting process, coordinate with agents & managers, deal with actors for certain things instead of director or producers.
MUSIC DIRECTOR: have lead sheets and arrangements mad, hire musicians and participate in selecting cast, making sure there are at least 2 great singers, supervise audio editor.
ALLAN MANN:  will receive compensation for granting a nine (9) month option to purchase all rights to Earthlight material & his services as director.
PR FIRM:  Need to figure out the best way to represent Earthlight to its mostly new audience.
WRITERS:  Writers will be selected & given an advance to begin work on the book & screenplay.